Interview in Mexico's The News – Colectivo StilL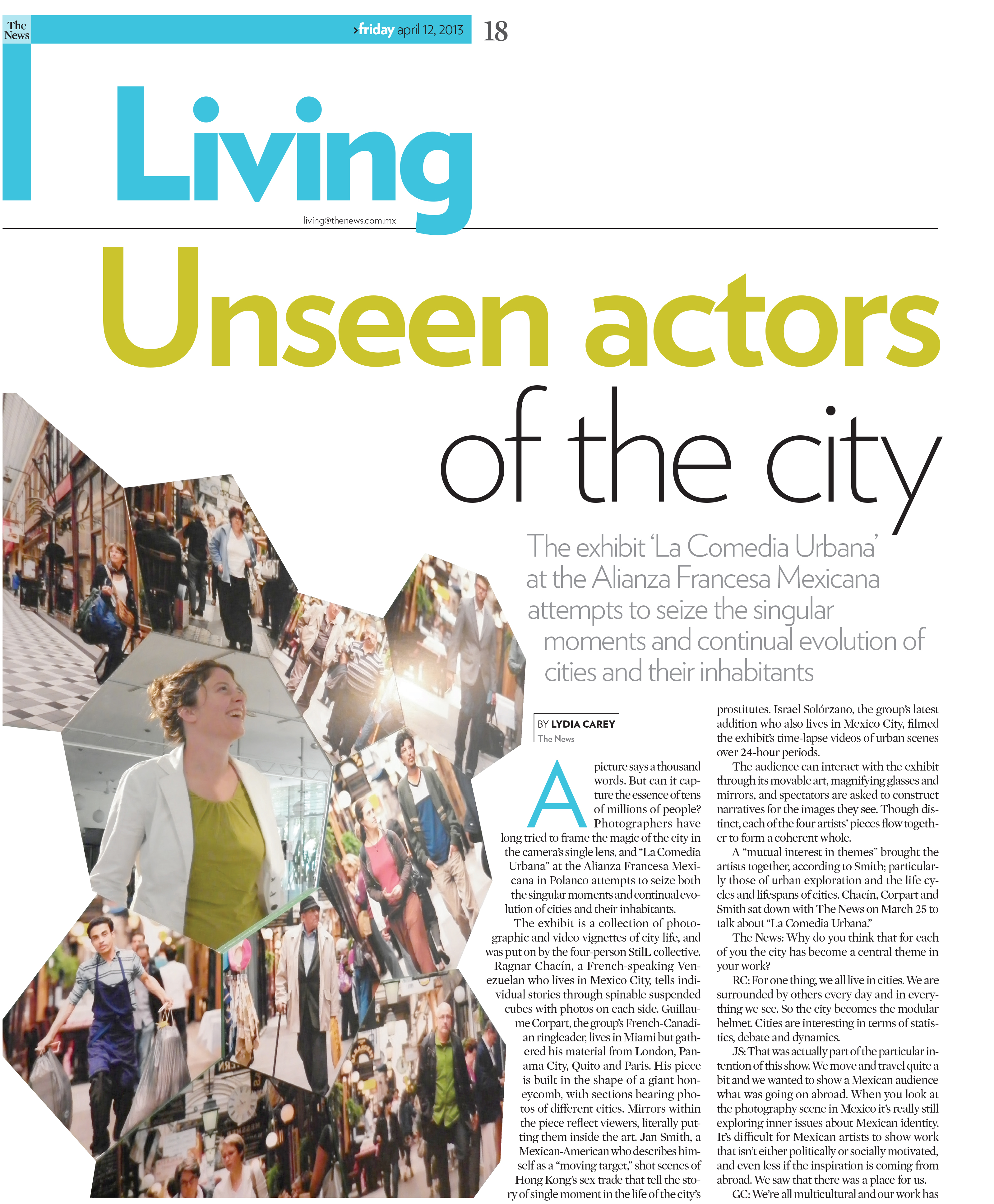 The News interviewed Ragnar, Guillaume and me about our latest exhibit, La Comedia Urbana that is began its national tour at the Alianza Francesa Polanco in Mexico City.  The article ran on April 12th, but it took me a while to receive a copy.  You can read the digital copy below.  Hope you enjoy the interview.
The exhibit 'La Comedia Urbana' at the Alianza Francesa Mexicana attempts to seize the singular moments and continual evolution of cities and their inhabitants
A picture says a thousand words. But can it capture the essence of tens of millions of people? Photographers have long tried to frame the magic of the city in the camera's single lens, and "La Comedia Urbana" at the Alianza Francesa Mexicana in Polanco attempts to seize both the singular moments and continual evolution of cities and their inhabitants.
The exhibit is a collection of photographic and video vignettes of city life, and was put on by the four-person StilL collective.
Ragnar Chacín, a French-speaking Venezuelan who lives in Mexico City, tells individual stories through spinable suspended cubes with photos on each side. Guillaume Corpart, the group's French-Canadian ringleader, lives in Miami but gathered his material from London, Panama City, Quito and Paris. His piece is built in the shape of a giant honeycomb, with sections bearing photos of different cities. Mirrors within the piece reflect viewers, literally putting them inside the art. Jan Smith, a Mexican-American who describes himself as a "moving target," shot scenes of Hong Kong's sex trade that tell the story of single moment in the life of the city's prostitutes. Israel Solórzano, the group's latest addition who also lives in Mexico City, filmed the exhibit's time-lapse videos of urban scenes over 24-hour periods.
The audience can interact with the exhibit through its movable art, magnifying glasses and mirrors, and spectators are asked to construct narratives for the images they see. Though distinct, each of the four artists' pieces flow together to form a coherent whole.
A "mutual interest in themes" brought the artists together, according to Smith; particularly those of urban exploration and the life cycles and lifespans of cities. Chacín, Corpart and Smith sat down with The News on March 25 to talk about "La Comedia Urbana."
The News: Why do you think that for each of you the city has become a central theme in your work?
RC: For one thing, we all live in cities. We are surrounded by others every day and in everything we see. So the city becomes the modular helmet. Cities are interesting in terms of statistics, debate and dynamics.
JS: That was actually part of the particular intention of this show. We move and travel quite a bit and we wanted to show a Mexican audience what was going on abroad. When you look at the photography scene in Mexico it's really still exploring inner issues about Mexican identity. It's difficult for Mexican artists to show work that isn't either politically or socially motivated, and even less if the inspiration is coming from abroad. We saw that there was a place for us.
GC: We're all multicultural and our work has no borders. You find that when you look at Jan's images of Hong Kong brothels and Ragnar's (photos) from Africa to Paris to Nice or mine that cover seven cities.
The News: Is there a strong collaborative process among the four of you?
GC: I think there is always a strong element of collaboration and this time it's not just collaboration in terms of theme but also presentation. As opposed to many other exhibits you might see, this one was actually meticulously planned out — the patterns of fives and sevens throughout, the use of black and white versus color, the color patterns which depict certain cities, the geometric forms, the use of boards, the mounting, the use of mirrors — all tie the exhibit together.
The News: You created space for viewer participation. Is that something that's been important throughout your work together or new to this exhibit?
RC: I would say that we have been working for a long time with interactivity. We create proposals: there's the frame and there's the photo and people make up their own stories. That's something that we never talk about, but it is something in (photography). I think in all our shows that component is there, so we have been doing it without knowing it and now in this particular show it's conscious and desired.
GC: In this exhibit, while the theme is cities, it's about peoples' stories, whether it's brothels and the stories you can imagine going on behind those images or the cubes that tell their own story as you turn them, or the stories of the people on the honeycomb grid. You can imagine yourself within that story because it's all about the unseen actors, which we all are in our cities.
JS: It's also reflective of what's going in the photography art world. On the one hand there's a crisis, because of digital photography and pocket phones — everyone's got a camera, everyone's a photographer. So has that degraded photography just as it was being recognized as an art form? At the same time there's an evolution of photography in terms of being more than bi-dimensional, maybe being a bit more journalistic in its narrative or completely abstract in its art. There is room to use new media elements, new physical elements to make it more dynamic, to tell a story in different ways. We struggle to make people see photography as art and part of that process is making it interactive.
The News: How is it working as a collective?
GC: We all have our own work but I think working together really pushes us and it really raises the bar. In this exhibit in particular, we're all really pushing the limits of what we are doing, we're all striving to do better.
JS: The other thing is we started as three and we've had guest artists in a couple of shows. Isreal is one of them and part of wanting to do a new project and looking for new things is bringing in new perspectives, new art, new participants. With Israel we feel like we have a solid group member.
The News: Does the collaboration have to do with the focus on cities — places where we are essentially alone and yet surrounded — each of us seeking community?
RC: It is. I easily get bored working alone, so I need people around me. I need fellow artists, I need exchange, and I need other disciplines — painting, sculpture, dance. So in my search for that the collective is there for me. I don't believe in creating alone, I don't believe that the spark just comes from God or wherever. I believe in exchanging. You are influencing me and I am influencing you.
GC: I think it's part of the reason and I also think it's reflected in the exhibit, the interconnection between people. It's a real process because the first show that Jan and I did together we had single frames, with single images and that was it. And today we've added video installation, we've added sculptures in the past, we've added time-lapse video, audio stuff. Every time we're including more senses to what we're presenting and I think it enriches the concept of the whole collaborative effort.